Calvin Peete joins NJGA at their 3rd Annual Invitational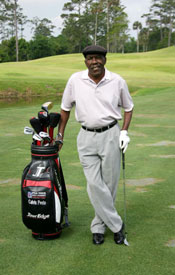 Mr. Calvin Peete (left) also known as Mr. Accuracy turned Pro in 1975 and won his First tournament in 1979 Greater Milwaukee Open. He won 11 more times on the tour during a 5-year span. His most prestigious victory came at the consecutive years 1981-1990.
Mr. Peete, only the second African American to play on the US Ryder Cup team at the time, played in both the 1983 and 1985 matches.
Ponte Vedra Beach Florida, is home to Mr. Peete and his family.