Celebrating Calvin Peete
Mr. Calvin Peete
1943-2015
— Tributes —
Be at peace my dear friend-you were a humble giant among men! Your good deeds will live forever in the hearts and minds of so many young aspiring lives. God Bless.
—Kingsley Rowe (President)
We lost a good man in Calvin. The story here (The Palm Beach Post Apr 30/15 by Brian Biggane) tells much of what he overcame and achieved but missed a lot of what a kind and sweet man he was.
—Dr. Gary Wiren (Chairman)
Calvin Peete was an amazing man. He accomplished so much but his focus and priority was always on "the kids", as he called them. Nothing else mattered to Calvin but "his kids" —Kevin Hickey
The NJGA is honoured and privileged to celebrate the life of Mr. Calvin Peete. Calvin has inspired our Academy students exemplifying NJGA core values and guiding principles, leading by example that anything is possible. Thank you Calvin, the NJGA is Fore" ever grateful of your generosity and contributions —Terry Kirkup
Have a peaceful rest Calvin. Your mentoring to young lives has left this world a better place. Thank you —Amelia Yee
Over the years Calvin has been a dear friend to the NJGA. He also served as a role model and inspiration to our young students, especially those from urban communities. Calvin will be especially missed at our annual fundraiser Golf Invitational, which you attended most years, often as a guest speaker. Calvin you will be missed! God bless —Davina Reid
National Junior Golf Academy (NJGA)
Oakville, ON CANADA www.njga.ca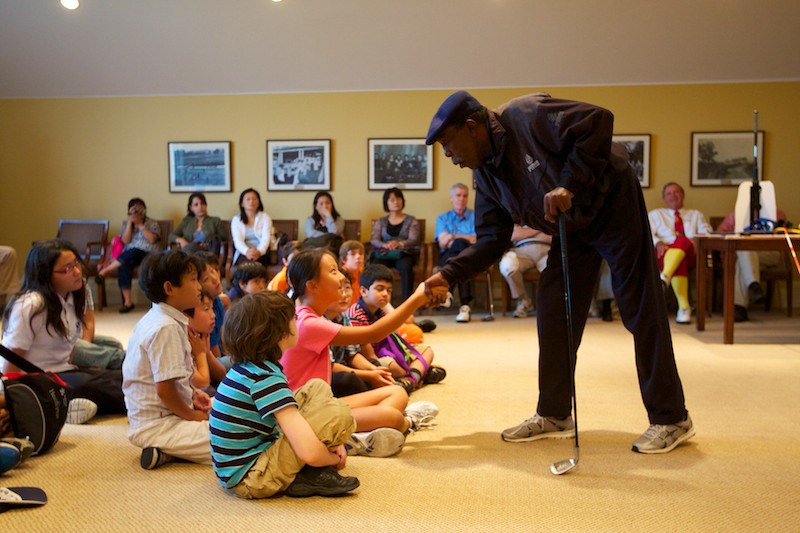 Biography
Mr. Calvin Peete (above at the NJGA 8th annual invitational) also known as Mr. Accuracy turned Pro in 1975 and won his First tournament in 1979 Greater Milwaukee Open. He won 11 more times on the tour during a 5-year span. His most prestigious victory came at the consecutive years 1981-1990.
Mr. Peete, only the second African American to play on the US Ryder Cup team at the time, played in both the 1983 and 1985 matches.
Ponte Vedra Beach Florida, is home to Mr. Peete and his family.
Calvin Peete pulled himself up from Glades to PGA Tour
by Brian Biggane
Calvin Peete, who rose from a childhood of picking vegetables in the fields neighboring Lake Okeechobee to become an 11-time winner on the PGA Tour, died early Wednesday morning in Atlanta. He was 71.
Peete overcame a broken arm suffered when he fell out of a tree at age 12 that never fully healed to lead the Tour in driving accuracy for nine straight years. He became the fourth African-American to win on Tour, following Pete Brown, Charlie Sifford and Lee Elder, and he was the most successful until the arrival of Tiger Woods.
"In our community, he was a role model in a number of ways," said Clarence Anthony, who served as mayor of South Bay from 1984-2008 and is now the executive director of the National League of Cities in Washington, D.C. "He was a self-made golfer who pulled himself up out of the Glades using a skill he developed personally, and was very successful."
source: http://www.palmbeachpost.com/news/sports/golf/calvin-peete-1943-2015pulled-himself-up-from-glade/nk55z/ READ MORE