NJGA 2007-2008 Charity of Choice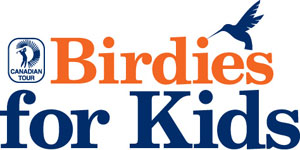 History
Birdies for Kids was developed by the players of the Canadian Tour to benefit charity in Canada in 2007. This initiative was led by Player Director Adam Speirs.
Players donate $1 for every birdie made on Tour and $2 for every eagle to a selected charity each year.
2007 & 2008 the Charity of Choice was the National Junior Golf Academy
The National Junior Golf Academy (NJGA) is a registered non-profit volunteer driven organization designed to break down economic barriers and use the rules governing the sport of golf to teach our youth life-skills: honesty, integrity, punctuality, decorum, respect for self and others and to address delinquency.
NJGA works closely with area families, social workers, agencies and community centres in order to target and reach youth from economically challenged, high-risk areas in and around the Greater Toronto Area.