Dominique Claxton, A chance of a lifetime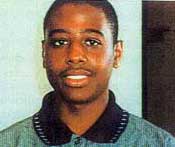 "Golf is very challenging and I like a challenge. Normally it dominates you, but I want to see if I can meet the challenge"
- Dominique Claxton
Fourteen year-old Dominique Claxton was introduced to golf by the National Junior Golf Academy at Driftwood Community Centre in the fall of 1999. The academy focuses on youth from economically challenged communities, who would never otherwise be exposed to the social benefits the game has to offer.
Working out of the Driftwood Community Centre, with the support of Kevin Thistle and the use of his Angus Glen facilities, the academy has not only made a difference in one child's life, but is impacting upon an entire community.The academy has changed Dominique's life around. He is now brimming with confidence and self esteem, and it will have the same effect on others as time goes on.Golf is very challenging and I like a challenge. Normally it dominates you, but I want to see if I can meet the challenge.Dominique Claxton.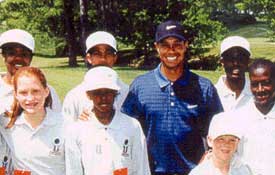 Dominique was given the chance of a lifetime with the opportunity to attend Tiger Wood's Golf Clinic in Birmingham, Alabama. One of only 20 kids from across North America, Claxton shook hands with the number one player in the world and took in a week-end of instructions ranging from the swing to rules and etiquette, starring Woods and his father, Earl.
Related Video: Dominique Claxton at Birmingham, Alabama