Urban Legends
It's been just over two years since Ashley Quashigah and her younger brother David picked up a golf club for the first time. Yet unlike most youngsters, who take their first swing at a driving range or putting green at a local club, this brother-sister duo were inside a gymnasium Centre, using plastic golf balls on an Astroturf mat and taking aim into a net.
They're members of the National Junior Golf Academy, a groundb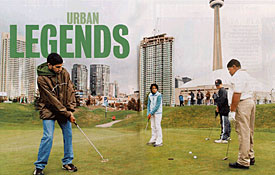 reaking and unique learn-to-golf program that introduces kids living in the notorious crime-ridden Jane-Finch corridor to the game.
Their mother signed them up one day when the academy was just getting started, and for Ashley and David, there's been no turning back. "When I first started I didn't know anything about the game of golf," said Ashley, 12, a Grade 7 student.
"But now that I've had some experience with the rules and putting, chipping and full swings, I know quite a bit." She's not exaggerating. At the driving range last summer, Ashley was consistently driving balls 200 yards. And David, 10, was never far behind.
The academy was founded by Kingsley Rowe, an avid and talented golfer with more than 20 years of experience under his belt. Rowe, started the program with a desire to share his love of the game with kids less fortunate - particularly those living In high risk areas that otherwise wouldn't have the opportunity to take part in the sport.
This is the most fulfilling experience that one can have," Rowe said of his three year tenure as director of the program. "I wanted to do some-thing for the kids. I thought that golf, because of the skills that are required to play, would be a perfect sport to teach these kids life skills. The academy's program is nothing fancy. The 30 odd kids (at least half of them are girls) lucky enough to secure a space in the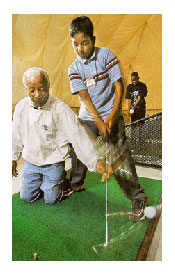 popular program spend most of their time indoors at the Driftwood Community Centre. For a couple of hours every Wednesday, they putt, chip and hit plastic balls into nets in the gymnasium. The six or seven instructors that volunteer their time each week on a rotating basis feel just as passionate about the program as Rowe. Some professional, others just experienced golfers, make their rounds each week giving each youngster individualized instruction. Just like the pros on tour, for these kids, golf is a year round sport."
Rowe facilitates four sessions each lasting about 10 weeks. That's welcome news to the students who look forward to returning each week- especially on the occasions where they venture outside the gymnasium. When weather and money permit, the group heads to nearby Eaglequest Golf Centre or the Toronto Board of Trade Golf and Country Club in Woodbridge, testing out their skills on the driving range with real golf balls or on the putting green.
Because it is such a unique program and it is free to all participants, Rowe said it is impossible to accommodate the demand. About 40 kids are on the waiting list. And that's just I the Jane-Finch area. "They don't pay anything at all. The kids are not asked to pay anything and we provide them with all the basic equipment," he said. Thanks in part to his tireless efforts, last summer Rowe's charges has the opportunity to tee off at one of the area's most exclusive club, rubbing shoulders with members who pay thousands in fees annually.
Last August the Board of Trade club announced it would welcome the academy's young golfers to make use of the cub's sprawling Woodbridge facilities. The kids were granted access to the south nine-hole course and driving range. Opportunities like this don't come along often. The private club has adult 1,200 members, each of whom shell out approximately $2,500 in annual fees, in addition to the $28,000 one-time initiation fee to become a member. Rowe has been a member of the club since 1983.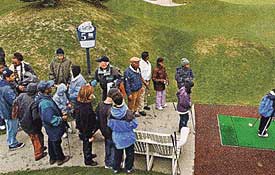 In addition, the academy has received sponsorship from golf houses that have stepped up to help whenever they can. These include the Eaglequest Golf Centre, and corporate sponsors Callaway, Mizuno, Wilson, Nike and Spalding. The City of Toronto also helps out and is looking to become more involved, Rowe said.
They've given the academy office space at one of the community centers and the kids can play at no cost at some of their city's public courses, such at Scarlett Woods. Last summer the academy's members were also given tickets from Mayor Mel Lastman to see Tiger Woods on Olympic Island as part of a credit card promotion. "It was great for us to go there and see him. We were in pretty good seats – about 10 metres away from him" said Charles Bisram, a 16-year-old, Grade 10 student who first signed on to the program with his younger sister Victoria two years ago.
"He was showing us our shots and how he does it." Bisram has improved significantly in the past two years. He credits his success to the dedicated instructors who volunteer their time to the program. If it weren't for them, he probably wouldn't have realized which way he should be swinging.
"I started out left-handed for about three or four weeks," he explained, "but now I'm right-handed." Rowe can't say enough about how proud he is off his students. "They've changed dramatically. Not just with their golf game, but their presence. They have a confidence about themselves and they're very charming kids," he said. He's also especially proud of one of the academy's most promising athletes, Dominique Claxton.
Three years ago, the 16-year-old had never even picked up a golf club, let alone swung one. A lot has changed since then. In April of 2201, Claxton was one of three young Canadians chosen out of a pool of approximately 3,000 to attend a Tiger Woods' golf camp in Birmingham, Ala. He was selected based on an essay Rowe wrote on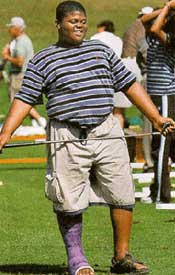 his behalf where he was asked to consider three factors: aptitude toward the game of golf, application in school, and, ability to overcome obstacles. Rowe said when he wrote that essay in the winter of 2201, Claxton was just an average scholastic student.
On his more recent report cards, Rowe said his averages have improved substantially, bringing him to the top of his class. These days, his game keeps improving. Last summer he played out of the National Golf Club. Even though he's not a member, he was granted playing privileges at the exclusive club. He also has plying privileges at the Board of Trade.
Although Claxton doesn't attend the Wednesday sessions as often as he once did, he still drops by occasionally to help out with some of the younger students.
One day Rowe wants to see the academy grow large enough to reach out to 3,500 kids, expanding to other high risk areas. Plans are now in the works to have the program expanded to five new sites across the city, including Moss Park, Flemingdon Park and St Jamestown.
No one knows for sure when the new sites will be up and running – it all depends on how fast the infrastructure can be set up. Rowe figures it will cost about $150,000 to $200,000 a year to sustain the program once the new centers are operational.
Meanwhile, he's working with the Royal Canadian Golf Association (RCGA) and the Canadian Professional Golf Association (CPGA) to line up some professionals to work with the kids. "It's not going to be a rapid process. We will grow and we will grow slowly," he said. Satisfied with how far he's come and determined to forge ahead. "I'm looking for bigger and better things in '03.