NJGA students to utilize the Toronto Board Of Trade golfing facilities
Announcement by The Toronto Board of Trade Golf Club to allow N.J.G.A.'s students access to their golfing facilities. Supervised seasonal professional training and play.
The National Junior Golf Academy, Which is headed by Jamaican-born Kingsley Rowe, has formed a partnership with the Toronto Board of Trade to give youths-especially minority youths from the Jane Finch area - the opportunity to learn the game by using the board's exclusive facilities in Woodbridge. The kids were given instructions under the watchful eyes of several professionals.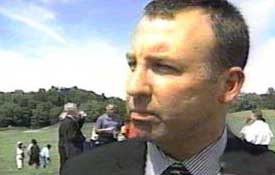 "We, at the golf club, believe this program creates great opportunities for the youth of today and helps to develop future leaders in our community"
- Shane Dysart
General Manager
T.B.O.T. Golf Section