Canadian Tour Players Give Back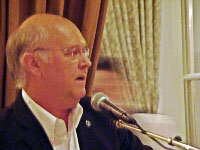 SCARBOROUGH, Ont. – Canadian Tour players and Scarboro Golf Club opened their hearts on Monday to underprivileged children living in the Toronto area of Jane and Finch.

A busload of smiling faces pulled up to Scarboro Golf Club and spent the morning mixing with Canadian Tour pros and learning not only about golf, but life.

Birdies for Kids is an initiative between the Canadian Tour and the National Junior Golf Academy that teaches children life skills with the rules of golf as a model.

That evening, several youngsters from the Self-Esteem Academy choir entertained the crowd with moving songs that touched the hearts and minds of all present.

The children sang songs of hope and unity that showed how our children are the future.

A silent auction was held to raise funds for the Academy and the keynote speaker was former South African Sunshine Tour Commissioner Johan Immelman (pictured).

Mr. Immelman is involved with the Sbonelo Scholarship Foundation. He explained how 45 million children in Sub-Sahara Africa and 115 million around the world never attend school and the loss of potential.

The goal of Sbonelo is to allow children to reach their full potential through education and to teach them the skills in order for them to be the leaders of tomorrow.

Mr. Immelman praised the Canadian Tour and Birdies for Kids for the giving spirit it shows through its charity initiatives. Mr. Immelman pointed out how it is only through giving that we receive back.

Mr. Immelman is the father of 2008 Masters Tournament winner Trevor Immelman and he was thrilled to auction off a 2008 Masters flag signed by the tournament winner.

Another highlight of the evening was the announcement of two scholarships to be awarded each year by Capital One Canada to promising students in the NJGA program.